Fast Track Booking Here - Choose your Course and City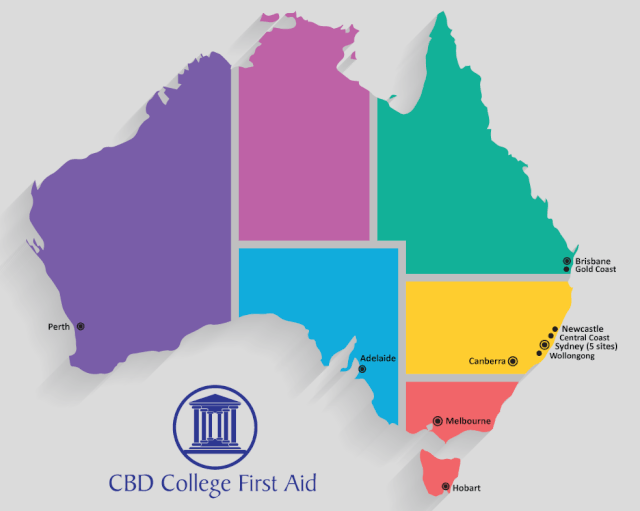 Sydney CBD
Level 4, 10 Quay Street, Haymarket NSW 2000
Newcastle CBD
Second Floor, 376 Hunter Street, Newcastle, NSW, 2300
Parramatta CBD
Suite 103, Level 1, 96 Phillip St, Parramatta (on the Parramatta river near the ferry terminal).
CBD training rooms in Parramatta are located just 800 meters from Parramatta Train Station.
Penrith CBD
Suite 2003A, Level 2, Borec House, 21-55 Station Street, Penrith, NSW 2750
Hornsby CBD
We are located just 3 minutes' walk from Hornsby train station at: Miller Noyce House, Suite 2, Level 2, 45-47 Hunter Street, Hornsby NSW 2077
Liverpool CBD
Located just near Westfield Liverpool at Shop 1, 19a-21 Northumberland Street, Liverpool
Wollongong CBD
Suite 3, Level 1, The Telstra Bldg., 304 Crown Street, Wollongong, NSW 2500 (entrance to building on Railway Pde)
Central Coast CBD
Shop 2, 203 The Entrance Road Erina 2250
Melbourne
L3, 55 Swanston St, Melbourne 3000
(first tram stop from Flinders St Railway Station, entrance to building next to Krispy Kreme, Sushi Hub and Lord of the Fries).
Dandenong
Lower Ground, 2-10 Walker Street, Dandenong VIC 3175 (rear of building facing railway - cnr Moysey Lane and Freemasons Lane)
Brisbane
Suite 14, Level 4, The National Bank Building, 180 Queen Street, Brisbane, Queensland, 4000
CBD training rooms in Brisbane CBD are located in the National Bank building in the Queen Street mall.
Gold Coast
Southport Tower 2, Level 3, Suite 02, 5 Lawson Street, Southport, 4215
We are right at the Southport bus stop and light rail stop.
Adelaide
Suite 2.04, Level 2, 30 Currie St, Adelaide SA 5000
Perth
Level 3, 150 Adelaide Terrace, East Perth, Western Australia 6004
Our training rooms in Perth are located in the heart of the city. Just near the corner of Bennet Street and Adelaide Terrace.
Canberra
Ground Floor, 30 Colbee Court (West), Phillip
Hobart
Suite 4, Level 3, 13-17 Castray Esplanade, Battery Point, TAS 7004.